Projected Regular Season Records For All 32 NFL Teams
Some say that "a good forecaster is not smarter than everyone else, he merely has his ignorance better organized." Then welcome to IgnoranceFest 2020! Here are the definitive predictions of where all 32 NFL teams will finish, and with what regular season record, for the 2020 NFL season.
Without a shred of doubt, the COVID-19 pandemic and more recently, the movements for equality, still loom extremely large over the entire universe, and certainly over a 2020 NFL season that figures to be perhaps the most interesting ever. And not to dismiss the importance of health, safety and treating every human being equally, let's table those heavy topics for just a minute and finally talk some actual professional, empty-stadium football! Particularly, let's assess and predict who will finish where, and with what record. What could possibly go wrong?
So, using a 256-game "simulation" of the entire NFL schedule. Here's what I'm seeing in my own subjective crystal ball:
---
AFC EAST
Quick slant: New England has literally owned this division for 17 of the last 19 years. Well, not anymore. Still likely better than the Dolphins and Jets, the Patriots dynasty, amid the departure of one Tom Brady, has finally fallen. The Bills already provided signs of a momentum shift last year, but this season should be the full blown takeover. Miami, (too young) and New York (just too f*cked up) will prove to be irrelevant within any AFC playoff race.
| | | | |
| --- | --- | --- | --- |
| Finish | Team | 2019 | '20 Projection |
| 1 | Buffalo Bills | 10-6 | 10-6 |
| 2 | New England Patriots | 12-4 | 7-9 |
| 3 | Miami Dolphins | 5-11 | 5-11 |
| 4 | New York Jets | 7-9 | 3-13 |
1. Buffalo Bills (10-6) – Coming off a 10-6 playoff season, flanked by an above-average defense, the continued improvement of Josh Allen, a new playmaker in Stefon Diggs and some fresh ink for Tre'Davious White, the Bills now find themselves as the favorites to capture the division. Easily the most complete team among the four, the Bills will capture the AFC East for the first time since 1995! Please, a round of applause, everyone.
2. New England Patriots (7-9) – Tom Brady finally moved on to terrorize another division in a different conference, leaving Bill Belichick and the Patriots feeling something they haven't in almost two decades: vulnerable. Combine the GOAT's departure with the handful of players (and related conspiracy theories) that have already opted out of the upcoming season, along with a very depleted receiving core, and suddenly, the division is open for the taking. Even Superman himself, Cam Newton, can't save this expected "collapse."
3. Miami Dolphins (5-11) – After starting 0-7 and setting futility records, the frisky Dolphins ended up being a charming story in the second half of the season, going 5-4 down the stretch. While they still don't have the pieces to compete for a playoff spot, rookie quarterback Tua Tagovailoa should be extremely fun to watch (once the FitzMagic burns out). 2020 for the Dolphins will essentially be used to prepare for next season.
4. New York Jets (3-13) – Meanwhile, this disgruntled crew is in shambles. With the team's best overall player, Jamal Adams, forcing his way to Seattle, defensive anchor C.J. Mosley opting out, head coach Adam Gase having to face the constant fire storms and even ownership becoming embroiled in some controversy, it's an absolute mess off the field in New York. With plenty of distractions, an unproven roster and the 4th hardest schedule, I don't expect this team to competitive. 3-13 seems about right.
Taking the Bills OVER 9.0 wins.
Taking the Patriots UNDER 9.0 wins.
Taking the Dolphins UNDER 6.5 wins.
Taking the Jets UNDER 7.0 wins.
---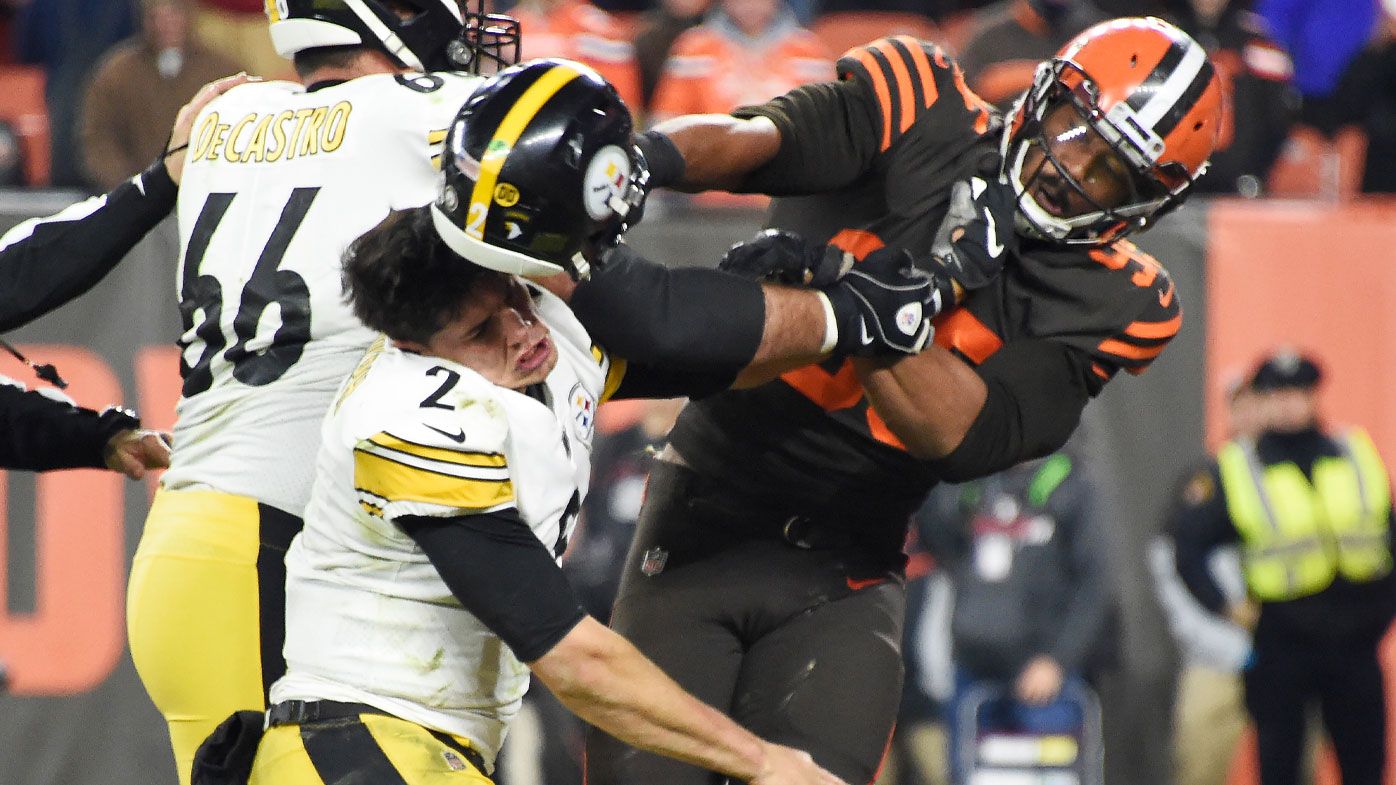 AFC NORTH
Quick slant: Last season, Lamar Jackson and the Baltimore Ravens showed no mercy and literally ran away with the division. The Steelers dealt with a surplus of injuries and Mike Tomlin, behind an elite defense, still managed an 8-8 season out of a group that featured Mason Rudolph and Duck Hodges at quarterback. The Browns couldn't match the preseason buzz and fell flat (again). The Bengals were expected to be a disaster, but at least one that put them on the path to drafting Joe "Exotic" Burrow.
| | | | |
| --- | --- | --- | --- |
| Finish | Team | 2019 | '20 Projection |
| 1 | Baltimore Ravens | 14-2 | 12-4 |
| 2 | Pittsburgh Steelers | 8-8 | 11-5 |
| 3 | Cleveland Browns | 6-10 | 9-7 |
| 4 | Cincinnati Bengals | 2-14 | 5-11 |
1. Baltimore Ravens (12-4) – While 14-2 will be near possible to duplicate, the Ravens seem to have the league's current formula for dominance (primarily an electric ground attack). And apparently, some feel that reigning MVP Lamar Jackson is "light years" and "a million times" ahead of last year. Scary! On top of that, the signing of defensive end Calais Campbell and drafting of running back J.K. Dobbins were two underrated moves that kept this minimally-altered roster extremely solid. Even without the problematic Earl Thomas and his baggage.
2. Pittsburgh Steelers (11-5) – Typically, the Steelers go as far as Ben Roethlisberger's injury status will let them. Well, he's back, injury-free and in great shape. And with Smith-Schuster, Diontae Johnson, the return of James Conner and the addition of Eric Ebron, the offensive weapons are in place. Factor in Pittsburgh's elite defense, featuring Cam Heyward and with the rapid rise of T.J. Watt, this team figures to be a lock for the playoffs.
3. Cleveland Browns (9-7) – Forgive me if you've heard this line before, but I'm expecting big(ger) things from the Browns this season. Well, at least a record improvement. A soft schedule, talent on both sides of the ball, a couple of nice additions in Jack Conklin, Austin Hooper and creative new head coach Kevin Stefanski should help the cause. The rookie head coach will also be tasked ensuring that Baker Mayfield is successful in a revamped offense and that no further quarterback controversies arise, ever. Also, Myles Garrett as a sneaky candidate for DPOY.
4. Cincinnati Bengals (5-11) – After last season, Cincinnati really had nowhere to go but up, and while 5-11 certainly isn't pretty, it's a 3-game improvement! #1 overall pick Joe Burrow has already been named a captain and is entrenched for Week 1. I really like the weapons this offense has and think the Bengals could be some fun this season. But "fun" doesn't always translate into wins, which they'll lack, especially with a rookie head coach.
Taking the Ravens OVER 11.5 wins.
Taking the Steelers OVER 9.5 wins.
Taking the Browns OVER 8.5 wins.
Taking the Bengals UNDER 5.5 wins.
---
AFC SOUTH
Quick slant: With the Tennessee Titans unexpected run to the AFC Championship game last season, this AFC South showed signs of transitioning into less of a crap shoot than in previous seasons, suggesting that this should be the Titans division to lose. However, the Colts look great on paper and I think will be the better overall team in 2020. The Texans might need some extra magic from Deshaun Watson to steal the division and the Jags, well, they need a complete cultural transformation.
| | | | |
| --- | --- | --- | --- |
| Finish | Team | 2019 | '20 Projection |
| 1 | Indianapolis Colts | 7-9 | 10-6 |
| 2 | Tennessee Titans | 9-7 | 9-7 |
| 3 | Houston Texans | 10-6 | 8-8 |
| 4 | Jacksonville Jaguars | 6-10 | 2-14 |
1. Indianapolis Colts (10-6) – Here's the truth: Philip Rivers was terrible for a disappointing Chargers team last season. And while a change of scenery could provide a slight revitalization, he simply cannot turn the ball over at the same rate he did last year. However, he is committed to finding the balance between "aggressive and stupid." The bonus is that an elite offensive line and rapidly-improving defense should be enough to carry the Colts to a winning record against the easiest schedule in the entire league.
2. Tennessee Titans (9-7) – Remember that time the Titans entered the playoffs as the #6 seed, wiped out the #3 Patriots, the #1 Ravens and nearly the eventual-champion #2 Chiefs? Yeah, that was only about 8 months ago. While I don't see them making a regular season "leap" in terms of record, they certainly have an equal shot at claiming division honors. I just think the Colts are a bit better. Yes, even after the Jadeveon Clowney signing.
3. Houston Texans (8-8) – I mean, the Texans could surprise. The loss of DeAndre Hopkins hurts, but with Cooks-Fuller-Stills-Cobb receiving combination is still deep (IF healthy). The fading defense behind J.J. Watt is perhaps a greater concern. Deshaun Watson is a special player, and some serious magic will be required. David Johnson and the potential for a bounce back season will be one of the bigger elements for this squad. Also, opening up at Kansas City, hosting Baltimore and visiting Pittsburgh is a less than ideal opening three-game stretch.
4. Jacksonville Jaguars (2-14) – The Jags have fallen far (and fast) to occupy "punching bag" status within the division. They did bring in Jay Gruden to try to re-ignite the offense, but will that be enough without any star skill position players to speak of? The defense, once the calling card of this franchise, has disintegrated over the past couple of seasons. Looking at their schedule, I just can't find more than a couple of potential wins.
Taking the Colts OVER 9.0 wins.
Taking the Titans OVER 8.5 wins.
Taking the Texans OVER 7.5 wins.
Taking the Jaguars UNDER 4.5 wins.
---
AFC WEST
Quick slant: The AFC West features the superior Kansas City Chiefs, and then everybody else. But after the defending champs, it could get weird. The Chargers were considered the second best team in the division last season, but finished dead last, while the Broncos and Raiders were expected to battle to stay out of the cellar and each almost finished .500. This season, it could be a tight race for second place, but I'll give the Chargers the slight nod based on the potential of their defense.
| | | | |
| --- | --- | --- | --- |
| Finish | Team | 2019 | '20 Projection |
| 1 | Kansas City Chiefs | 12-4 | 12-4 |
| 2 | Los Angeles Chargers | 5-11 | 8-8 |
| 3 | Denver Broncos | 7-9 | 7-9 |
| 4 | Las Vegas Raiders | 7-9 | 6-10 |
1. Kansas City Chiefs (12-4) – Projecting the defending Super Bowl champions at 12-4 might even be an insult, considering they have basically the same team that just pulled down the Lombardi. Their stars (new Royals owner Pat Mahomes, Travis Kelce and Chris Jones) were all given massive paydays this offseason and they didn't lose any significant roster pieces. In fact, rookie running back Clyde Edwards-Helaire might prove to be an upgrade over Damien Williams. That's certainly the early assumption in fantasy circles. There are no serious contenders to the Chiefs AFC West throne.
2. Los Angeles Chargers (8-8) – This Chargers defense is legitimate (though the Derwin James loss stings a bit). But they did go and add Chris Harris Jr. to the secondary. The D will keep this team respectable week to week. However, a significant change at quarterback (after 14 full seasons of Philip Rivers) will be the true test. If nothing else, Tyrod Taylor is quite the opposite of the gunslinger that Rivers was, so the Chargers should see a boost in the turnover department. But how effectively he can use his deep threats will be a measurement as to how long they can hang around the playoff chase.
3. Denver Broncos (7-9) – Look, the loss of Von Miller is a HUGE blow for this defense. The offense could be rejuvenated after bringing in Pat Shurmur, signing running back Melvin Gordon and drafting blazing wide receiver Jerry Jeudy. Second year quarterback Drew Lock seems to be creating some noteworthy buzz and is the key to this potentially-dangerous offense all coming together. Overall, it feels like another 7-9 season in the making.
4. Las Vegas Raiders (6-10) – This team has made some strides, but they are YOUNG. Last season, 7-9 felt like a big over-achievement. With a little more depth on both sides of the ball, the Raiders could squeeze their way into competition with the Broncos and Chargers, which is something they couldn't say for a long time. Do yourself a favor and check the (very) long odds on Josh Jacobs winning the rushing title. And don't sleep on Derek Carr, who was surprisingly adequate last season (4,054 yards, 21 TDs, 8 INTs and 100.8 Passer Rating). Overall, they'll be in a new city, but carry the same familiar ineptitude.
Taking the Chiefs OVER 11.5 wins.
Taking the Chargers OVER 7.5 wins.
Taking the Broncos UNDER 7.5 wins.
Taking the Raiders UNDER 7.5 wins.
---
NFC EAST
Quick slant: This division was the definition of "nonperformance" last season, especially considering the lofty expectations perennially placed on both the Eagles and Cowboys. This season, the division will come down to those two squads once again, with the Giants and the Washington Football Team bringing up the rear. This season, I expect Dallas to pull away from Philly and make a deep playoff run.
| | | | |
| --- | --- | --- | --- |
| Finish | Team | 2019 | '20 Projection |
| 1 | Dallas Cowboys | 8-8 | 12-4 |
| 2 | Philadelphia Eagles | 9-7 | 9-7 |
| 3 | New York Giants | 4-12 | 5-11 |
| 4 | Washington Football | 3-13 | 3-13 |
1. Dallas Cowboys (12-4) – Though I hate to admit it, the Cowboys are one of the most well-rounded teams in the entire league, and I think it will show in their record this season. They were already dangerous, but they drafted well (CeeDee Lamb). I also like the additions they made (Everson Griffen, Dontari Poe, Greg Zuerlein and even Aldon Smith). Perhaps better, they now employ a battle-tested head coach that's not Jason Garrett in Mike McCarthy. I see Dallas as superior than Philly in this division and as a potential Super Bowl candidate.
2. Philadelphia Eagles (9-7) – The Eagles entire season might rest on the right arm (and legs) of Carson Wentz. Whether he can get back to his MVP-caliber play will dictate how competitive they will be (also, Jalen Hurts lurks in the background). Fortunately, they'll have four "easier" games against the Giants and Washington to help. All things considered, this Eagles squad as a whole needs a sustainable clean bill of health across the board in 2020. 9 or 10 wins seems like an appropriate landing spot.
3. New York Giants (5-11) – On paper, the Giants seem like they'll be better than last year. This is Daniel Jones' team now, and without Eli in the background. I like the talent this team has on offense. The combination of Barkley, Tate, Shepard, Slayton and Engram seems formidable enough at the skill positions to push some better teams. However, even with a few notable signings (James Bradberry, Blake Martinez and Logan Ryan), this defense could struggle big time against the pass.
4. Washington Football Team (3-13) – It's going to be a long season in D.C. for new coach Ron Rivera and this nameless Washington squad. Some of their players are equally as nameless. While Alex Smith has been an incredible story, the issues loom large at quarterback for this team, and whether Dwayne Haskins Jr. is truly ready. I'm not holding my breath. #2 overall pick Chase Young will be fun to watch, but the defense has a very "boom or bust" feel to it. Expect little from this group.
Taking the Cowboys OVER 9.5 wins.
Taking the Eagles UNDER 9.5 wins.
Taking the Giants UNDER 6.5 wins.
Taking Washington UNDER 5.5 wins.
---
NFC NORTH
Quick slant: The Packers ran away with the North last season, compiling an impressive 13-3 record. But things should be more competitive this season. While I don't expect complete regression for Green Bay, I think 13 wins is definitely out of the question. The Lions, appearing large on the "sleeper" radar, could push both Green Bay and Minnesota for the top of the division. The Bears (who have committed to Mitch Trubisky at quarterback for at least Week 1) still have some holes to fill. I would be shocked to see this team above .500 in 2020.
| | | | |
| --- | --- | --- | --- |
| Finish | Team | 2019 | '20 Projection |
| 1 | Green Bay Packers | 13-3 | 10-6 |
| T-2 | Detroit Lions | 3-12-1 | 8-8 |
| T-2 | Minnesota Vikings | 10-6 | 8-8 |
| 4 | Chicago Bears | 8-8 | 5-11 |
1. Green Bay Packers (10-6) – As a Packers fan, maybe I'm being cautiously optimistic with the 10-6 prediction, but the lack of "assistance" given to Aaron Rodgers is a little concerning (and I'm not even speaking of the drafting of Jordan Love). Davante Adams and Aaron Jones will be fine, but there's major deficiency among the skill players behind them. The depth is sorely lacking. Fortunately, the defense is now the stronger of the two units and will help carry this team toward another division title.
T-2. Detroit Lions (8-8) – If the defense wasn't mediocre, this team would scare me a lot more. But the offense will be entertaining and could end up being one of the best in the league, especially with a healthy Matthew Stafford back in the saddle. On D, rookie cornerback Jeff Okudah is getting plenty of deserved hype, but let's see how he handles those NFL boys. Losing Darius Slay over the top will weaken the unit. The Lions are practically everyone's sleeper to improve, so beware.
T-2. Minnesota Vikings (8-8) – The Vikings are an intriguing and potentially unpredictable team this year. Their defense remains solid, especially with the safety combination of Harrison Smith and Anthony Harris, as well as the recent addition of lineman Yannick Ngakoue. But the recent loss of Danielle Hunter, the team's best pass rusher, for a chunk of time, is rough. Outside of Dalvin Cook and Adam Thielen, I'm not a fan of the offense, as it's full of young, unproven guys. The departure of Stefon Diggs will hurt the depth.
4. Chicago Bears (5-11) – Almost by process of elimination, the Bears have to be the team at the bottom here. Also, I just don't see a complete team. The defense should be above average, but on offense, I'm not convinced. With Mitch Trubisky about to enter free agency and Nick Foles making "starter" money, I can see a flip flop at the position all season long, which is the recipe for disaster.
Taking the Packers OVER 9.0 wins.
Taking the Lions OVER 6.5 wins.
Taking the Vikings UNDER 9.0 wins.
Taking the Bears UNDER 8.5 wins.
---
NFC SOUTH
Quick slant: With Brees and now Brady, two of the all-time greatest, now residing in the NFC South, it's going to be a very intriguing year within the division. I expect the Saints and Bucs to battle all season long (including opening week) and finish as playoff teams. I don't think the Falcons have enough to seriously compete and the Panthers are in full rebuild mode with a new coach, new quarterback and a ton of young guys.
| | | | |
| --- | --- | --- | --- |
| Finish | Team | 2019 | '20 Projection |
| 1 | New Orleans Saints | 13-3 | 12-4 |
| 2 | Tampa Bay Buccaneers | 7-9 | 11-5 |
| 3 | Atlanta Falcons | 7-9 | 7-9 |
| 4 | Carolina Panthers | 5-11 | 4-12 |
1. New Orleans Saints (12-4) – At this point, it seems almost automatic to pick the Saints to win the South. I've pegged them at 12 wins, though I could be convinced that Tampa will hang with them all the way to the finish. Brees has the weapons once again, with Alvin Kamara is due to bounce back to full capacity (along with an expected new contract) and the underrated defense is perennially overshadowed by the offense. Expect another superior performance out of the Saints, as they start to wind down Brees' career.
2. Tampa Bay Buccaneers (11-5) – The Leonard Fournette signing was the gravy on top of what expects to be a complete turnaround in Tampa, as the Jameis Winston era ends (he signed with the rival Saints) and the Tom Brady era begins. Oh, and that Gronk guy is back. The biggest concern I have about the offense is that the Bucs sport two deep-threat studs at wide receiver in Mike Evans and Chris Godwin, but can or will Brady go all the way downfield to harvest their full potential?
3. Atlanta Falcons (7-9) – The Falcons are essentially in purgatory, but that's nothing new. Solid in several aspects, but not quite good enough to compete with the superpowers above them, especially given they have the toughest schedule in the league. The secondary is going to have major problems stopping those with above-average air attacks. And the jury is out (and may be all season) on the Todd Gurley signing, which seems to have come a couple seasons too late. At the end, could this be it for Dan Quinn at the helm?
4. Carolina Panthers (4-12) – It would be insulting to deny the talent of Christian McCaffrey, but after him, the star power isn't as glamorous. They do have a talented wideout trio in D.J. Moore, Curtis Samuel and Robby Anderson, but they could ultimately be feast or famine. And as steady as Teddy Bridgewater has been in the past, it's an entirely new team, with a brand new head coach that's not only new to the team, but it practically new to the entire league. It's rebuild mode in Carolina. Last, I'd be remiss to omit that there's some COVID-19 concerns around the team at current time.
Taking the Saints OVER 10.5 wins.
Taking the Buccaneers OVER 9.5 wins.
Taking the Falcons UNDER 7.5 wins.
Taking the Panthers UNDER 5.5 wins.
---
NFC WEST
Quick slant: This division is going to be FUN! And maybe, just maybe, I have very high expectations of it's resident teams. Fresh off a Super Bowl run, the Niners should be given the benefit of the doubt that they're still the cream of the crop (even with some minor regression and being banged up). The Seahawks are always in the mix and look like a complete football team once again. The Cardinals will be exciting and have made some very key acquisitions to kick start their turnaround. Sean McVay's Rams are looking like a complete wild card.
| | | | |
| --- | --- | --- | --- |
| Finish | Team | 2019 | '20 Projection |
| 1 | San Francisco 49ers | 13-3 | 11-5 |
| T-2 | Arizona Cardinals | 5-10-1 | 10-6 |
| T-2 | Seattle Seahawks | 11-5 | 10-6 |
| 4 | Los Angeles Rams | 9-7 | 7-9 |
1. San Francisco 49ers (11-5) – Not much has changed for the Niners in the eight months removed from their Super Bowl defeat to the Chiefs. That's a good thing. Behind Nick Bosa and Richard Sherman, they still boast arguably the best defense in the league. Offensively, Kyle Shanahan is still a wizard. Though the team has a few injuries with receivers, once they regain full strength, they'll be a tough unit to contain. I'll give them division honors until they actually lose it.
T-2. Arizona Cardinals (10-6) – The Cards are certainly on the list of exciting teams to watch in 2020. I realize this doesn't equate to wins necessarily. Going from 5-10-1 all the way to 10-6 is a bit of an uphill climb, but the potential is there with year two of Kyler Murray and Kliff Kingsbury, the addition of the elite DeAndre Hopkins (whom they just extended) and the steadiness of Larry Fitzgerald and Chandler Jones. Time to take the Cards seriously again, even in a crowded NFC West.
T-2. Seattle Seahawks (10-6) – I count the Seahawks out every season and more often than not, they embarrass me (from both a predictions and gambling perspective). Behind Russell Wilson, they have some playmakers in Tyler Lockett, D.K. Metcalf, Chris Carson and perhaps even Will Dissly. Even the ghost of Josh Gordon is floating around out there, pending a reinstatement decision from the league. The defense is slowly regaining it's shape from years past by adding Jamal Adams to an impressive secondary. Pete Carroll will have this squad competitive once again.
4. Los Angeles Rams (7-9) – I mean, the Rams still have some major players, but by process of elimination, someone has to fall to the bottom. I like the other three teams better. Gurley and Cooks are gone, but Goff still has weapons in Woods, Kupp and a nice tight end combination of Higbee and Everett. And although some of the names aren't quite as boisterous, the Rams still possess elite defensive stars like Aaron Donald and Jalen Ramsey (also now PAID). But it won't be quite enough to re-claim the (wild) West.
Taking the 49ers OVER 10.5 wins.
Taking the Cardinals OVER 7.5 wins.
Taking the Seahawks OVER 9.0 wins.
Taking the Rams UNDER 9.0 wins.
---
* All 2020 NFL Over/Under Regular-Season Win Totals are provided by Odds Shark.